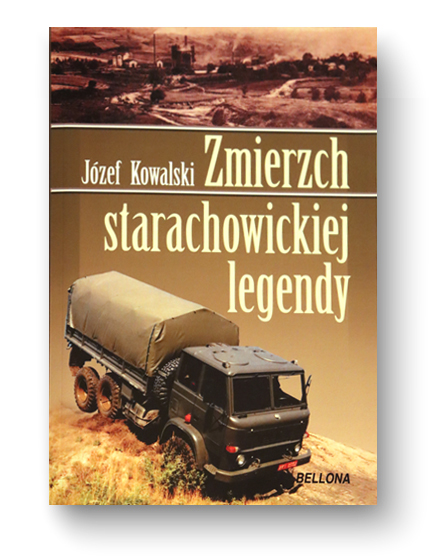 Zmierzch starachowickiej legendy (PL)
Twilight of the Starachowice Legend
This is Józef Kowalski's first book referring to the history of Starachowice and its truck factory. The author presents an account of the part of Starachowice where he was born. With great emotion and appreciation, he describes the events of the German occupation involving Jan Skowron, the author's father-in-law. The events unfold in Eulalia's wife's family home, on a street then referred to as "Mała." It was from here that commandant Antoni "Gray" Heda began the famous Starachowice prison break, resulting in the release of a large group of citizens. The author recounts the Nazi German crimes in Starachowice, its Jewish ghetto, and the executions and shootings. He mentions the Radom Firlej, where 15,000 people lost their lives, including over 300 Starachowice residents. The author devotes a large portion of his work to the history of the development of Polish trucks after World War II, manufactured as a result of his involvement. An extremely fascinating section of the book details the car being built in Starachowice for Pope John Paul II in connection with his first pilgrimage to the homeland. The final chapters are dedicated to the factory's collapse and the unfulfilled hopes after reclaiming a free and democratic Poland. The author depicts the deliberate actions of the ruling elites, aimed at destroying an important industrial center, in spite of the history and heritage of Starachowice. This book is intended for all history lovers.
Twilight of the Starachowice Legend was published by Bellona Publishing House - Warsaw, September 2013.
Nieniejszy mail jest pułapką na osoby rozsyłające niechciane wiadomości. Prosimy o nie wysyłanie na niego żadnych wiadomości gdyż Państwa adres może zostać pernamentnie zablokowany.
alexander@secretcats.pl
. Jeśli jesteś właścicielem niniejszej strony możesz usunąć tę notkę jednak pamiętaj, że ta pułapka ogranicza niechciane maile wpadające na Twoje skrzynki pocztowe.